Lace-Parasols - Fine Battenburg Lace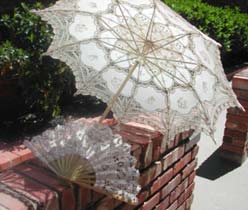 Welcome to a unique store where you will find an assortment of Battenberg lace parasols in various styles, sizes and colors. These fine crafted sun umbrellas are 100% cotton and feature a feminine and "vintage" look.
Lace-Parasols. . . undercover elegance!
Our Lace parasols are used in Civil War reenactments, vintage and Victorian weddings, French royal court reenactments, plays, photography props, garden tea parties, and film productions.
Our Lace Products: